Congratulations Emily and Jef!!!
I had to adjust our church schedule so I could watch the Final Rose because I sure wasn't going to miss it! I am so, so happy with how it turned out!
With all the hype leading up to the final episode I think we were all a little weary of what the outcome would be. I believe a fellow blogger commented a few weeks ago and predicted that she would send one guy home before the could propose. Once she mentioned that I totally agreed!
Jef- I am so happy for you and Emily! I think you are super genuine and honestly have Emily and Ricki's best interest at heart. I love how you are so good with words and how you talk to Emily. You did an amazing job at interacting with Ricki and I'm so happy that Emily was able to let you meet her. I think it would have been hard for both you and Emily to move to the engagement phase if that hadn't taken place. I truly think this relationship can work. I think it's so different than any other we've seen. I think you specifically are totally in it for love and not at all about the fame! Congrats Jef and I can't wait to hear how your relationship progresses!!!
Now, let's walk down memory lane...
The first introduction. You could tell that Jef was a cool guy from the moment we first saw him. Riding up on a skate board showed his fun side and he wasn't cheesy at all.
I think this is when Emily said she wished he would have kissed her. You can see in her face how much she like him. I think it was better that he waited personally. He drew her in and made her want him even more. Then, in London when he did kiss her, it made it that much more special!
Remember this episode when they had to compete with each other? A little foreshadowing to the final episode with Jef vs. Arie.
Arie- Now Arie, I think you are an awesome guy! You truly loved Emily and it showed. It's one of those things though where she had to pick one over the other and if you could see what we saw with Jef, I think you would agree with her decision. I'm sure you'll make one lucky girl really happy! And frankly, I think you and Emily would have worked out, but I'm not sure how Ricki would have fit in. Best of luck Arie!
I'm a little puzzled as to why ABC chose to have the proposal site in the little village surrounded by flowers. I mean they are in Curacao and they beach was amazing!!!!!! I'm just saying, if I were Emily, I'd much rather prefer to have the setting be a picture perfect beach setting than a random village. How amazing would that have been???
I LOVED Emily's season and I can't wait to find out who the next Bachelor will be. Sean anyone???? And I'm clearly going to watch Bachelor Pad too. Anything Bachelor is a guilty pleasure of mine!
Will YOU be watching Bachelor Pad?
Who do YOU think the next Bachelor will be?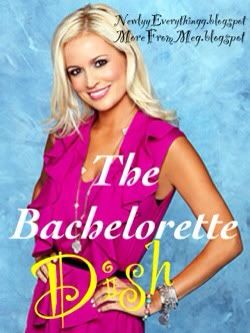 I'm liking up again with the lovely Meghan from
More from Meg
. Check out all the chit cat about the latest episode of The Bachelorette!
Happy Monday!