Hey ladies! Did you watch the Bachelorette last night?? I sure did. We had taco night and Bachelorette watching. It was an awesome night.
Okay, home dates are great because it's such a good way for Emily to see if she fits into one of these guy's families. You can also tell more about a guy by the way he acts around his family. Meeting the parents, siblings can always bring a few awkward moments.
p.s. I finally narrowed down my top three to the top two.
LIKES
(I give you a rose!!)
Sean-OMG, Sean I can't even believe the trick you pulled on Emily. I thought for sure you were a goner if you lived at home, had your mom clean your room and lived like a pig. I was like NOOOOO...that was by far the best little trick ever. I have to say your dad is just the sweetest thing. I'd love him to be my father-in-law. I can see Emily and Ricki fitting in very nicely with you and your family. Sean, I think you have a very good shot at becoming Emily's wife.
Jef-You looked super hot on the ranch. I love it that Emily secretly didn't know how to hold a gun. That was a sweet little move on her part. And your note Jef...wow you sure know how to write your way into a woman's heart. That was so sweet and I can tell it was really genuine. You have a big family and at first it seemed intimidating for Emily, but I think they were very welcoming. I love your laid back, fun, outgoing attitude and I agree that it compliments Emily nicely. Jef, you better be on your game next week...Sean and Emily have a very deep connection too.
DISLIKE
(Lonesome taxi ride home...see ya later!)
Chris-I wasn't rooting for you this episode I must admit. I think you acted awkward around Emily (maybe every girl, who knows). You were fidgety and just seemed uncomfortable. I completely see why Emily sent you home. I think she has a deeper connection with these three other guys. Plus the way you acted around her after she sent you home was very uncalled for. If you were truly "in love" with Emily, you would have simply wished the best for her and ended it at that. I think it's safe to say Chris that you were just not mature enough to be in this serious of a relationship. I don't think you are ready to be a husband and for sure NOT a father to a little girl. Best of luck...you have some great qualities, but you need a little tweaking.
Arie-I hate that you've made into my dislikes Arie! I actually still like you...don't get me wrong. It's just that I see more with Sean and Jef. I also did NOT like your family. I mean it was so awkward for Emily to have everyone in the room speaking a different language. That was very uncalled for and I'm glad you finally caught on. I just can't see Emily enjoying coming to visit your family and connecting with them. Who knows though, I could be wrong. We'll just have to see.
Best of luck next week Sean, Jef and Arie. Ya'll were my top favorites for a quite some time so I'd be happy for Emily to have any one of you! Wow, I don't know how Emily will decide. It's going to be a rough ride. Until next time...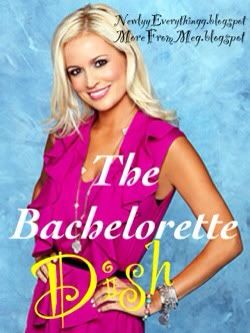 I'm liking up again with the lovely Meghan from
More from Meg
. Check out all the "dish" about the latest episode of The Bachelorette!
Speaking of Meghan...she's one of my sponsors this month. Let me introduce you to the super sweet
Megan from More from Meg
. As you can tell by her link up, she's a pretty awesome chick who loves some reality TV.
I'm a twenty-something newly married girl living in beautiful Indianapolis, IN. I went to college at the University of Indianapolis and graduated in 2007 with a major in Marketing.

I've had a lot of blogging experience - not only do I read a lot of blogs, but I used to work for a blogging software company and had to blog quite a bit! And truth be told, I miss it a little bit and that's what has sparked my interest in starting my blog. I love to spend time with our yellow lab, traveling, working out, reading, planning, organizing, and crafting! I am always on the go, and rarely do I have any patience! :) My husband and I are somewhat newlyweds (married for almost 3 years - not sure how long you can have that newlywed title), we moved into our first home in 2010 and I feel like I'm still decorating and making it "ours", but I'm loving every minute of it.
My husband, my brother in-law, and myself have a marketing consulting and business development company - I love working from home and being responsible for something that we built! Now I know what you're thinking - is it hard working with your husband and family? Nope, they make it easy! We are growing rapidly and that has been the main focus in our lives for some time now - even though we always seem busy, I wouldn't change it!
Now go check out Meg's blog!
Have a great Tuesday FRIENDS!