I'm so proud of my top three guys making it this far!!!!
(I want to keep you all!)
Jef
-I've liked you for a while, but after every episode I think I can see a real connection between you and Emily. I think everything you say is so genuine and I honestly think you would be a loving husband to Emily and a fun step-dad to Ricki. You and Emily had an amazing day and the way you turned down the fantasy suite was so respectful and makes me like you even more! Emily would be more than lucky to have you as her husband.
Sean
-I think the world was in shock when Emily sent you home last night. I honestly don't think Emily explained exactly why she sent you home. The only think I can think of is that she saw something more with Jef and Arie. I think you and Emily would have made a perfect couple and I would have loved to share my city with you too. I have an awesome friend who will be perfect for you! I'm sure you read my blog so just send me a message and I'll hook you up.
Arie
-I have liked you from the start. There is obviously a strong physical connection between you and Emily. Honestly, I thought you would be the one to go home. I thought she would see that she was missing more of an emotional connection. Plus to be totally honest, I wasn't thrilled with your family and thought they weren't very warm and welcoming to Emily. Don't take it personally, I totally like you Arie. I love how much you care for Emily and want the best for her. Best of luck Arie!
OKAY, two things: 1) I wish the "Men Tell All" was after the final episode. I can't stand to wait two weeks until she makes her decision. 2) From the preview of the final episode, it seems as though she doesn't choose either Jef or Arie. That better not be the case or I'll be very upset.
p.s. What's with the final episode being on Sunday night? Weird!
Tell me what YOU thought about last night's episode?
Were you SHOCKED Emily sent Sean home?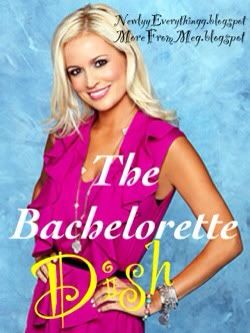 I'm liking up again with the lovely Meghan from
More from Meg
. Check out all the chit cat about the latest episode of The Bachelorette!