It's Tuesday, which means last night was The Bachelorette and you better believe I was watching! I watched the first half with some of my girl friends and the second half at home by myself. While it's fun to watch with others to chat about the drama, I hate to admit I like to watch it alone (or with Mr. H) because I like to really listen and watch. Haha. I like to catch every second!
Here's a breakdown of my top likes and top dislikes of the remaining 9 guys! I approve of Emily's decision to send Alejandro home. I mean who was he? I think he maybe had 42 minutes of camera time with her since the premiere.
LIKES
(I give you a rose)
Jef
: Jef and Emily really connected last night and had a great evening that ended with a sweet kiss. I love how genuine he is with Emily and I feel he truly has the right intentions.
Sean
: I didn't like Sean from the start, but after last week he's made a big turn in my book. I mean being a Dallas girl myself, I can say that us Dallas folks just know how to be awesome! He is very sweet to Emily and the would make some beautiful babies.
Arie
: Arie is just handsome and he honestly cares for her. I think he made a bad judgement call in not being the one to mention that Kalon was a sleaze bag, but I get that he didn't want to get into other relationships, but really! Arie needs to step it up. I like him and don't want to see him get kicked off just yet.
DISLIKE
(Lonesome taxi ride home)
Ryan: Okay, I don't even know where to start with Ryan. He's totally the guy you want to hate...he knows it, and he likes it! He makes me crazy and the comment he made last week about being the next Bachelor. Emily needs to send him to the curb or she's going to get hurt. She knows the guy he is and she's falling into his trap. Dear Emily, beware of Ryan. He's a creep and is totally playing you. Oh and he's loving every moment of it. -Devoted Watcher
John: There aren't a lot of reasons why I don't like John, but who calls them self "Wolf"??? He hasn't done anything amazing to make me fall in love with him so I can only assume Emily feels the same way.
Doug: Doug seems like an outstanding guy. I'm not going to lie. But he has a kid and it just seems like baggage. Ha. JK. There's something about him that I just don't like. I honestly don't see a real spark between Emily and Doug. He's sweet an all, but ehhhh I'm not feeling it.


So there you have it. Those are my top picks this episode. I love it once it gets more into the season so we get to know the guys better and relationships begin to grow. Can't wait to see what next week brings!!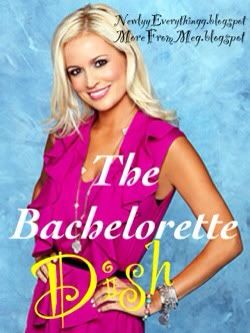 Today I'm liking up for the first time with the lovely Meghan from More from Meg. Check out all the chit cat about the latest episode of The Bachelorette!
Hope everyone has a wonderful Tuesday!